today's necklace. i got in music festival (Big chill) last year.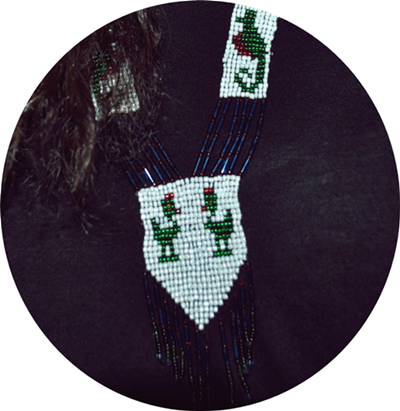 ive been feeling so good today even i was working :)
firstly i met really lovely old lady when i was woking. she was wearing blue belet hat and it was absolutely good on her so i just told her about it then she said she didnt have enought time to comb her hair so she just put on a hat. her smile was absoltely lovely. i want to be like her if i get old. i really do.
secondly yesssss! me, joey, tom and emma went for a meal and i finally had a proper steak today, (i hadnt eat it since i came to england. i just didnt have a an opportunity to have it), that was delicious although i couldnt have it with rice. i normally eat steak with rice in japan so...i felt a bit weird. i am a Japanese, i cant live without rice you know.
thirdly i finally could talk to my lovely mum. i havent talk with her really long time because she went back to korea for like 3weeks. and now she has really bad sore throat so she couldnt talk at all but it was still good chat.
anyway everything was brilliant today,,,after everything finished, i just cried a bit for some reason. its not that my life is shit everyday. i just had too brillant day i guess. well id imagine it will go back to normal from tomorrow. but thats alright, if you have a good time everyday (literally everrrydaaayy) you will fed up with it wont you?
今日はすべてが最高な日でした。なんだろう今日は本当に気分がよかったの、仕事してるときも暇だったけど来た客は全てよかったしその中でもものすごいスマイルが可愛いかったおばあちゃん。彼女はブルーのベレー帽かぶっててあまりにも素敵だったからそれを伝えたら喜んで、髪をとかす時間がなかったの。って教えてくれて。頼んだ料理も全て綺麗にたべて、(ほとんどの人はなにかしら残したりするんだけど)まだまだ元気だなーっておもった。息子さんにささえられないとうまく歩けなかったけどそれでもやっぱりこういう人は素敵。私の言ってること伝わるかな。あとはママとやっと話すことできたし、ステーキをやっと食べれたし。ジョーとトムとエマでちょっとposhなレストランいってステーキたべて。でもやっぱりご飯ほしかったなー。日本人は米が必要だいつでも。こんな日めったにないだろうな。一日中気分がいいなんて。でも全て終わった後ほっとして涙がでちゃったよ。ママと話せたっていうのが一番だけどなんだかあと6カ月しかいれないんだなーって。それにもう2月はいるし、時間はちゃくちゃくとせまってきて日本に帰ることものすごくエキサイテッドしてる反面悲しさもおおきくて。混乱しちゃうよね。そういうことさ。