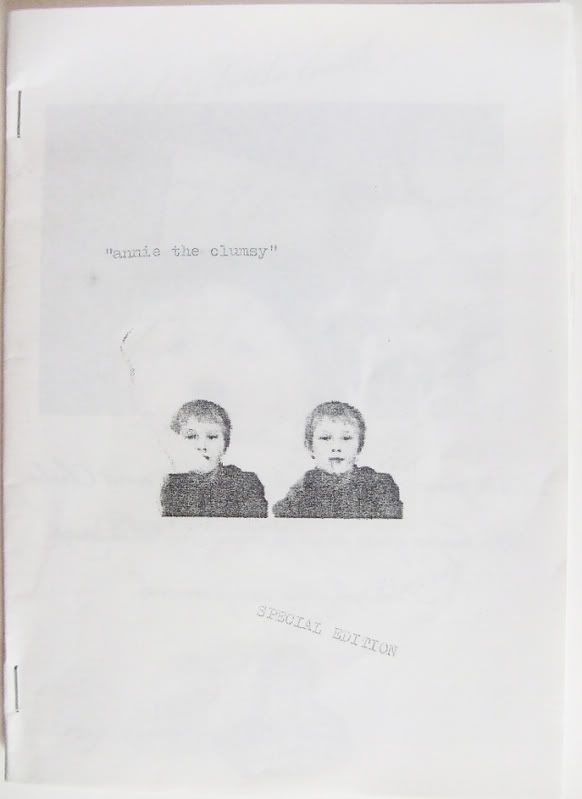 zineと戦ってきてやっとこさ作ったけども、あんまりにもしょぼいために自分のオリジナルソングを無理矢理ぶっこんでページ数を偽造した私のオリジナルzine
"annie the clumsy / special edition"
を
BOOKS DANTALION
さんで扱ってもらっています。なぜかsold outしてしまってうれしいんだか、ギルティーを感じるんだかで微妙な気持ちになってますがまた刷りまして補給しますのでぜひこのブログを見ててうちに興味があるかたはぜひ入荷したらよろしくお願いします。すごくクリエイティブなzineが好きな方にはおすすめしません。全くクリエイティブでもなんでもないですし、そういうふうに作ってません。dantalionさんの紹介文にも書いてあった通り、
このブログを見て気に入ってくれたかただけにお勧めします
。日本語久しぶりだ。日本からの見てる方がたくさんいるなか無視して英語でしたが、肝心のzineはちゃんと日本語で書いてあるので安心してください。※見返したら文章がおかしかったですが気にしないでもらいたいです。文章が全部つながってました。はは。よろしくお願いします。申し訳ないのが前回のsold outのときは多分印刷がそんなに濃くなかったのであれでしたが、今回のは濃すぎるぐらい濃くなって印刷されたので印象がかわりました。濃さでかわるもんですね。これからロー●●じゃなくて7で印刷することにします。、
you can buy my original zine at
BOOK DANTALION
. surprisingly its all sold out at this moment but i've just reprinted more so if you have any interested in this, you can get
from here.
it is NOT an art zine at all so don't really expect any art such as photo, illustration, and so on. it is more like mini-reading-zine with crappy CD of my original songs and i introduce 4 my favourite artists, including comedian, actress and actor. oh yes its written in japanese. i was going to make it in english but i thought it would be better to make it in japanese because all artists i introduce are already famous in america, uk, and so on but not in japan so this is the best time to tell people from my country about 4 incredible artists i respect. :)....yet my japanese sentences are a bit weird for some reason. hmm.